Finding a away to turn your expertise into an reproducible, online program is a great way to leverage your time, become a thought leader reach customers anywhere in the world and create more income.
Today's interview is with Petra Mayer. She helps entrepreneurs build successful online training and group coaching programs. I met Petra several years ago and was very impressed with her experience in this niche area. We now work together with many of the same clients and I'm thrilled Petra is here to share a few tips.
Petra Mayer is an Online Learning Expert and Group Coaching Profit Accelerator shares with us how she helps her clients avoid costly mistakes mistakes and achieve greater success.
Find out more in our interview.
Sign up for Petra's FREE Self Assessment: From Burnout to Six Figures With Online Programs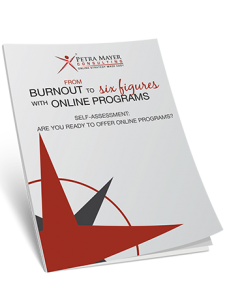 Find out more about Petra's next live event. I'm presenting day 2 and have some 50% off coupons. BLBC-NEWEARTH

In a mix of training and interactive workshop settings you will take your vision of your online course and transform it into an actionable plan.
Here are some other topics covered in the course:
​work through your idea and build out your plan for your first program (online or offline!).
Learn how to improve your new or existing program sso they are more awesome and transformational.
Learn how to build out your signature system, multiple programs that logically lead to each other.
Discover actionable strategies of how to fill your program regardless if you are speaking to one individual or you are speaking to a whole group.
Find out more. (Use coupon BLBC-NEWEARTH for 50% off)