Keynotes, Presentations, Lunch n Learns, Workshops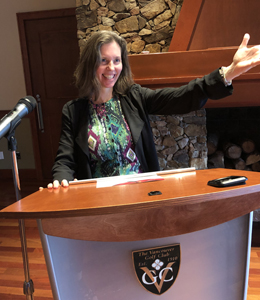 Are you looking for a business keynote for your organization or a dynamic lunch n learn?
Give us a call to discuss a keynote topic for your group. Each presentation is customized to suit the needs of the group, relying on success stories, humor and audience interaction.  With over 30 years experience in marketing and sales, Susan is open to Q & A, live web audits and discussion panels.
My feature talk for 2019:
Top 3 Marketing Mistakes to Avoid and 3 Powerful Steps to a Consistent Flow of New Leads
Here are some topics Susan has spoken on in the past:
Marketing Automation Best Practices & Building a Marketing Engine
Websites That Work: Save Money, Save Time and Increase Profits
Web Strategies That WOW
Engage Digitally and Have Fun at the Same Time!
The Journey of Marketing: Its History and What Is Relevant Today
Tuning Up Your Marketing and Sales
SEO Made Easy
Low Cost Marketing: Tips and Tricks
Branding U and Make Your Living LIVING
The Business of Yoga
Chakras for Entrepreneurs
Read Susan Jarema's Biography.
Book a presentation for your networking group or business organization.
Kudos! (what others have said)…
Susan is not just an expert speaker, she is an EXPERT who speaks!  She really knows her stuff.
~Val Low
President
Susan was our keynote speaker for the eWomen Network Vancouver Success Breakfast. She is very knowledgeable about online marketing strategies. Susan's delivery style is funny, fast paced and pertinent to women and their business.
~Pamela Chatry
Managing Director, Vancouver BC
eWomen Network
Susan Jarema was our guest speaker at our recent Roaring Women meeting. Not only is she very passionate and knowledgeable about web design and social networking, she was very humorous. The presentation was interactive and the audience participated fully. Her powerpoint visuals added clarity to the topic. If Susan can't answer your question, she has a fabulous support team that has the answers for you. I left inspired and started tweeting that day.
~Gail Crosby
Vancouver Regional Director
Roaring Women
Susan is an excellent speaker. Her energy level kept the audience intrigued and fascinated with her topic. There was never a boring moment! At the the end of the session, participants were able to come away with new ideas and tips. A wonderful session from a fantastic presenter!
~Jennifer Madigan
L2accent.com & BC HRMA
Susan is a high energy, incredibly detail oriented business woman with an amazing knowledge of what social media means to the business professional. The members and guests of The Connected Woman Network, www.theconnectedwoman.com were excited to learn and implement what Susan showed us. We'll definitely have you back!
~Cathy Kuzel
The Connected Woman
It is such a joy to recommend Susan to speak, educate, train and coach, because she does it all with such passion and enthusiasm. She 'knows what she is talking about'. When I heard Susan speak recently at an eWomen's meeting, for the first time I was motivated to get involved and more importantly with Susan being the one to teach me. I wish Susan all the success she deserves.
~Lilly Page
Flair Image Consulting
I enjoyed immensely Susan's Keynote at the eWomen's Networking breakfast event. She provided a thorough update on the importance of personal branding and the role of online marketing for our business, profession and daily life. Susan is extremely cheerful, funny and an expert in web tools. Her presentation on personal branding was something special and very current. She gave us a lot of information during a short time. I'm very much looking forward to her seminar and workshop in March and April!
~Sima Mirzaaghaee CGA BC
Susan is a treasure-trove of information about social networking. She has her finger on the pulse of how it works, important statistics, and understands how people can best use it in their professional and personal lives. She is well-versed and very enthusiastic when discussing her knowledge of social networking.
~Candace Plattor
Addictions Therapist, Being At Choice Consultants
I attended Susan's presentation on Social Media through BC HRMA and was impressed by her style, knowledge and willingness to share. The tips and advice Susan gave were pertinent and helpful, providing insights on strategy and branding. She walks her talk!
~Janet Brooks, CHRP
Vice President International Training & Development
Priority Management
Susan Jarema is a vibrant, entertaining speaker. I have worked with Susan on many projects. We have also given presentations and performed many concerts together. I highly commend her talents and would recommend her as a speaker and spokesperson for any project. Her enthusiasm about marketing is contagious!
Yurgen Ilaender (Mr. I)
Music Educator, Children's Entertainer and Recording Artist
Book a presentation for your networking group or business organization.