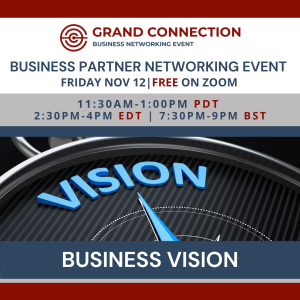 At this Mega Grand Connection Partner Networking event, we will be partnering with three collaborative leaders and their communities.
• Tonya Hofmann of Bee Konnect
• Eli Marcus of The Motivation Show
• Eli Marcus of The Motivation Show
Our partners will be sharing their wisdom on business vision. Your vision gives you a direction, clarity and allows you to more easily control your outcomes. Connect, create and collaborate with vision and purpose.
Date: Nov 12, 2021
Time: 90 minutes
11:30 am – 1:00 pm PDT (Time converter)
(2:30 pm – 4:00 pm EDT, 7:30 pm – 9:00 pm BST)
Location: Zoom
Agenda: 4-5 rounds of breakout rooms with short business tips in between!
Price: Free on Zoom. (Non-members may attend 2 Grand Connections for free)
Not yet a member? Membership is only $24.99/mo. Join Today
What to Expect:
The Grand Connection community is a welcoming group of like-minded businesses with a focus on Grand Giving. At our partner networking events we connect, create, and collaborate by practicing introductions in small breakout groups and share ideas on a common theme. Between each round, you will have the opportunity to meet experts who will share valuable tips to help your business grow. You will get many opportunities to meet new business owners and fine tune your 30 second pitch in this fun, lively, structured event on zoom. Please have your camera, good lighting and microphone available. Practice your short introduction ahead and have a short write-up prepared to share in the chat.