Discover simple, affordable MARKETING & SALES AUTOMATION that GROWS with YOUR BUSINESS
Personal Service to Grow With Your Business
You need a team that can pull together marketing, sales and technology into an
effective marketing engine that converts. We do more than just build great
websites, we really get to know your business and help drive sales.
"Working with New Earth Marketing is like having a great mechanic that you trust! I need my website and online marketing engine to run smoothly and perform. Susan gets the job done right at a good price and gives us great UI/UX designs, insightful business advice and terrific support. It is a comfort to have the NEM team on our side."
Diane Flanagan, Software Development Product Manager
Why New Earth Marketing
Personal reliable service that you can count on
Trusted with over 25 years' experience in marketing and sales
Awesome WordPress and custom coders to support your needs
Offering a range of marketing tools to fit your budget
Guaranteed graphic design to build your digital assets
Lead generation with focus on tracking and conversions
Affordable pricing in Canadian Dollars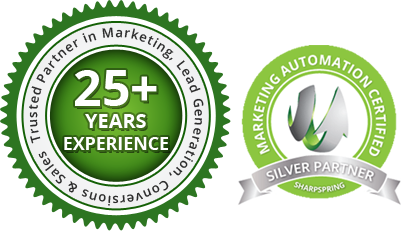 Learn More About Marketing & Sales Automation

generate leads
Identify previously anonymous visitors and capture detailed information. Automate and optimize your marketing communications based on real-time data from your target market.

drive sales
Score leads based on their behavior and get instant sales opportunity alerts for prospects. Automate lead nurturing with behavior-based tracking and visitor data to know when to sell and when to nurture your prospects.

optimize spend
Understand full end-to-end ROI and evaluate campaigns with accurate and relevant data – justify marketing spend and optimize every campaign.
Incredible Results Need Incredible Tools!
"Companies that use lead nurturing generate 50% more sales-ready leads at 33% lower cost."
Cost Effective
Low cost introductory packages available.
A fraction of the cost of the competition.
Affordable pricing in Canadian Dollars
No hidden costs
Easy-To-Understand Functionality
An easy-to-use platform makes sure you get the best results, fast.
Intuitive features like WYSIWYG email editor and effortless drag-and-drop form creation.
Helpful support articles and videos to learn quickly how to use the platform
Unlimited Integration
We work with any major 3rd-party form builder or CRM.
Skip the hassle and use our own built-in CRM.
An open API and universal CMS compatibility means we're connected.
Zapier integration with 100s of applications.
Find out more how to save you money on your marketing automation, set-up and web development
Work with a local marketing technology partner that undertands conversions
"Susan gets the big picture and helps our clients implement effective strategies to generate and convert leads on their websites. Her team is extremely knowledgeable, up-to-date and knows how to code. I fully endorse her!"
Pam Lehr, Go Mobile Media Marketing
Events

PowerFlow Marketing & Sales Program
Would you like your business to have a consistent automated flow of leads that convert? Do you want to save time, save money, and increase sales? A finely tuned marketing engine can help your business get in the zone. We call this state of success PowerFlowTM. The PowerFlow program shows clients how to achieve this […]
LEARN MORE
Tweet With Us

Track Your Inventory and Increase your Confidence with this Webinar - Small Business Trends
https://t.co/P6hEQVIC9j
Follow @susanjarema
Facebook