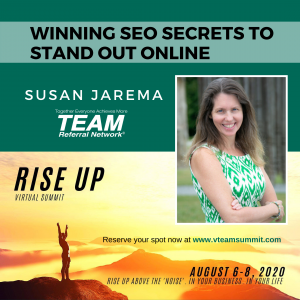 I'm proud to be one of the speakers in a virtual summit hosted by the TEAM Referral Network Virtual Chapters. I took part in the last event and made many new business connections in the global networking as well as gained many new business skills and inspiration.
My talk on Winning SEO Secrets to Stand Out Online is on Saturday. I welcome you to take part in all or a portion of this free event with a dynamic group of global speaker.
Search Engine Optimization is not as hard as the name sounds. Understanding SEO will bring better results to your content marketing and help you get qualified inbound leads. 
What you will get out of this talk:
How to do Keyword research yourself
Implementing SEO in all your content marketing
How to make doing SEO a habit in your business
Top 5 Tips for winning the SEO game
Reserve your spot today at www.vteamsummit.com 
This event is completely free and there are recordings afterwards!
The Purpose of the Summit
This has been a year filled with obstacles. It can be overwhelming at times! You want to keep moving and rise above it all, but some days you're not sure where to start. You wish you could get expert advice to help you intentionally navigate change and move you toward your goals.
That's exactly why we created the Rise Up Virtual Summit.
TEAM Referral Network Virtual Chapters is bringing together experts in accountability, intuitive leadership, customer service, networking, SEO, relationship-building, story, sales, wellness and more to help you rise above the noise in your life and business.
If you're ready to optimize any obstacles you are facing NOW, this summit is for you.
What You Will Learn
Feeling in control so far this year? We've got you! There's something for everyone inside our extraordinary speaker lineup.
You'll learn…
How to Navigate Change: One Better Feeling Thought At a Time with Cheryl Brewster
How 6-Figures is the New Minimum Wage with Jan Janzen
Success Strategies for Optimizing Accountability with Farah Hussain
How to Let Go of Stress and Anxiety with Expert Panel: Chella Diaz, Mariana Babas, Gina Fraundorfer and Jackie Tobias
How to Become Memorable and Leave Your Competitors in the Dust with Greg Smith
How to Awaken the Legend Within and Harness the Power of the Spotlight with Melanie Gow
Top Health Tips to Help You Succeed as a Business Owner with Sandra Burnett
Winning SEO Secrets to Stand Out Online with Susan Jarema
The Power of Design Thinking in Networking with Venky Balasubramanian
You'll also have a chance to meet professionals from around the globe in one-of-a-kind networking activities and events.
Reserve your spot today at www.vteamsummit.com.
TEAM Referral Network Virtual Chapters invites you to join us for the Rise Up Virtual Summit where our speakers will teach you how to take action and get traction. You'll walk away with actionable steps to begin rising up in your life and business immediately.
Rise Up Virtual Summit Schedule
(Participate LIVE or watch the REPLAY.)
Join us each day beginning at 8 am PST/11 am EST/4 pm BST/5 pm SAST/ 8:30 pm IST/11 pm SGT. (Always check your local time zone at www.thetimezoneconverter.com.)
Thursday, August 6, 2020
8 am PST/11 am EST. Connect with our speakers and other summit participants from around the world in an Online Summit Kickoff Networking Event followed by our dynamic speaker presentations.
Friday, August 7, 2020
8 am PST/11 am EST. Join us for a powerful online networking exercise followed by our extraordinary speakers.
Saturday, August 8, 2020
8 am PST/11 am EST. Participate in an Online Networking Mixer with other summit attendees followed by our amazing speakers.
Can't wait to see you for the Rise Up Virtual Summit. I know it's going to be a game-changer for your business.
Reserve your spot today at www.vteamsummit.com